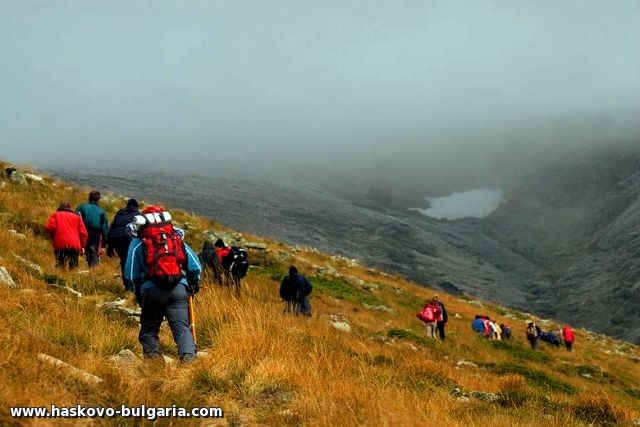 TOURIST ASSOCIATION AIDA HASKOVO
The first tourist association in the province – Rhodope Tourist, was founded in Haskovo in 1900. Initially, the association had 35 members and organized dozens of day trips around the region of Haskovo, later on they began organizing several-days trips to Bachkovo Monastery, Buzludzha Peak and Veliko Tarnovo. In a few years, the association's activity ceased and it stopped operating.
In 1915, the Youth Tourism Union (JTS) established a branch named Klokotnitsa, whose members were 62 students from the local mixed high school. On July 29, 1923, a meeting at the Zarya Community Center restored the association's activities, but under a new name. They named it to the closest to Haskovo peak of Rhodope Mountain; however the name was changed before that to Aydaa or Mechkovets. At that time, it had 100 members. In the years before September 9, 1944, the activity ceased, but it quickly awakened with the new government. Based on a politburo recommendation of the Central Committee of the Bulgarian Communist Party (BCP) from 1957, the tourist movement in Bulgaria was massively developing by forming Bulgarian Tourist Union based in Sofia with district and city councils.
After 1989, the activity continued, albeit with less strength. The years of the so-called "transition" did not stop the enthusiasts from enjoying the nature around Haskovo and Bulgaria.
Currently they have several clubs of interest:
Hiking
Alpine
Caving
Bicycling
Water
Students with teachers,
The total number of the members is 270.
The tourist association Aida manages three huts/chalets: Kenana, Knizhovnik and Aida.
The website of the tourist association Aida-Haskovo is: www.tdaida.com
 Location/ Venue / Address:
 Address:
2, Sredna gora Str. (Spartak Sports Hall), floor 3, room № 9
For Information / Information about / More Information about:
 mobile:/ mobile phone: +359 895 658 284; +359 898 519 815
 Facebook: Туристическо Дружество "Аида" – Хасково
 E-mail: tdaida@abv.bg
 Website: http://tdaida.com/