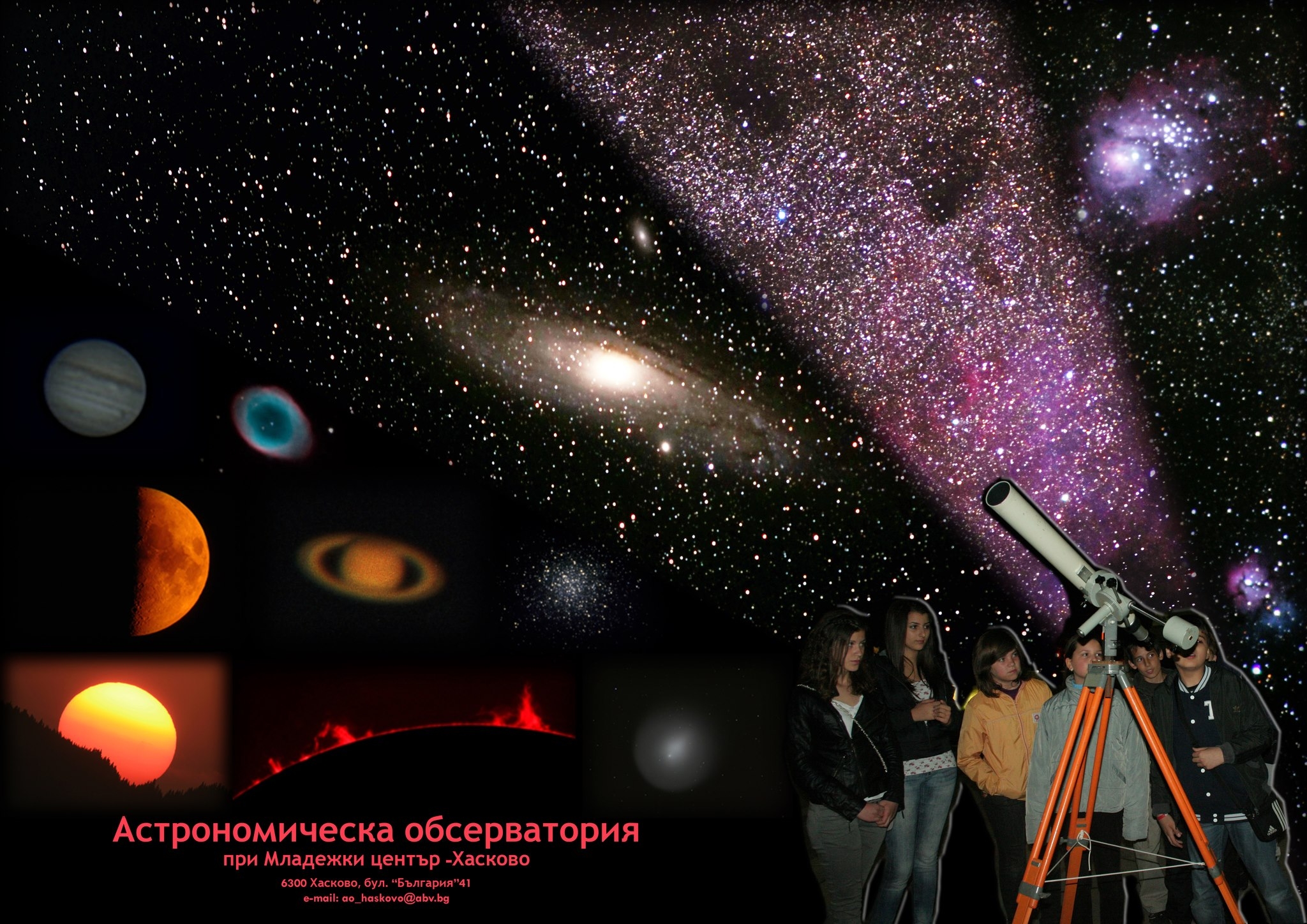 ASTRONOMICAL OBSERVATORY
The Astronomical Observatory (AO) at the Youth Center – Haskovo works with students between the ages 10 to 19 years. The permanent groups are taught about everything that can be seen in the sky and is of interest to the students. They make observations of the starry sky, of various astronomical objects and phenomena. There are annual expeditions and camp-schools at the National Astronomical Observatory – Rozhen. Each year the students organize a photo exhibition with their photos.
AO's graduates take part in numerous national contests and competitions. The members of AO have won 13 medals at the National Round of the Astronomy Olympics – 1 – gold, 5 – silver and 7 – bronze.  At the International Astronomy Olympics they won 5 bronze medals. 13 students were admitted as students at Sofia University's Faculty of Physics with their results from the Astronomy Olympics.
Those kids have received dozens of first and prize places in both national and international competitions.
AO works in close cooperation with the Union of Astronomers in Bulgaria, the Institute of Astronomy at the Bulgarian Academy of Sciences and the National Astronomical Observatory – Rozhen and is an active participant in a number of Bulgarian and international observation projects.
Most of the students, who have attended the Observatory are recipients of various scholarships and awards for their achievements in the field of astronomy, they have graduated or study in prestigious universities around the world, and some already work in world-renowned scientific and educational centers and have significant achievements in the field of natural sciences, physics and astronomy.
Opening times:
Monday, Tuesday, Wednesday: 10:00 – 18:00
Thursday: 10:00 – 20:00
Friday: 10:00 – 18:30
Lunch break: 12:30 – 13:00
OBSERVATIONS: Every THURSDAY in the event of CLEAR SKY at NIGHT
Contacts:
Manager: Yoanna Kokotanekova
Tel. +359 (0) 886 061 072
е-mail: ao_haskovo@abv.bg
Web-site: http://www.yc-haskovo.org/astronomiq/
https://www.facebook.com/ao.haskovo/
 Location/ Venue / Address:
For Information / Information about / More Information about:
 phone::  +359 886 061 072
 Facebook: https://www.facebook.com/ao.haskovo/
 E-mail: ao_haskovo@abv.bg
 Website: http://www.yc-haskovo.org/astronomiq/