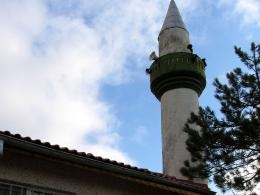 CHARSHIJKA MOSQUE (CHARSHI MOSQUE), HASKOVO
The name of the building is related to its location – both in the past and now – in the center of the commercial core of the city. Now it is almost entirely enclosed by two-and one-storey commercial buildings and shops, which isolate it from the view of the passers-by.
In the past, it had been free standing and special interest was paid to the two large-scale fountains located freely (outside the courtyard) at some distance from both sides. One feature of the prayer hall is that its long axis is transverse to the direction of entry. The attic is flat. In the middle of the counter-wall is a niche shaped by a relief frame. Overall, the interior is poor, mostly upgraded and modernized (wooden ceilings were removed, plastering was made, etc.). In the niche is preserved a well-characterized fresco with landscape motifs. The external architecture of the building (except the minaret) is uncharacteristic and inexpressive. On the southern wall there is a plaque with Arabic writing, which is unreadable.
Opening times:
Friday from 8:00 – 20:00
 Location/ Venue / Address:
 Address:
"Otets Paisiy" Str.