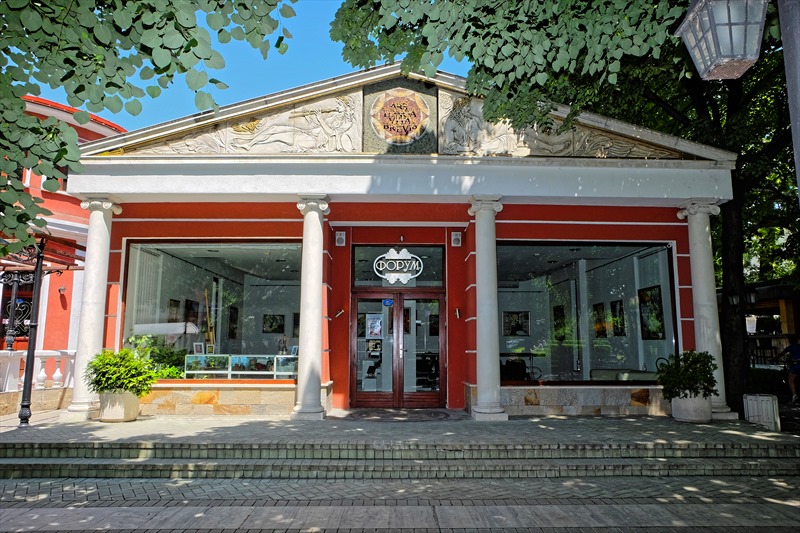 GALLERY FORUM, HASKOVO
The Art Gallery Forum was founded by the Municipality of Haskovo and has been functioning as gallery for modern and contemporary art since 05.09.2007. It is located in the central part of the city, next to the building of the theatre and has an area of 130 m2 for exhibition, spread into two floors. The façade is constructed in antique style, with a triangular pediment and Ionian columns. The architecture style of the Gallery's building is in complete harmony with the one of the theatre.
The Grond floor hosts the office of the Association of the Artists in Haskovo and is a perment marketplace for artists' masterpieces. One-man exhibitions and combined shows of local, national and international artists are happening on the first floor. Pieces of art that belong to Vezhdi Rashidov, George Papazov, Svetlin Rusev have been exposed here, as well as other masterpieces made by artists related with the city. The exhibitions in the gallery last about 20 days and then get changed, and the culmination points are around the days of the National Competition for Debut Literature in Haskovo, the Day of Haskovo – 8th of September, and the traditional yearly Christmas Exhibition opened and conducted by the Association of the Artists in Haskovo.
Vladimir Zapryanov is Director of the Art Gallery and Maria Delcheva is Keeper of the Gallery.
Contacts:
Address: № 40а Otets Paisiy Street, Haskovo 6300
tel.: +359 (0) 38 624 777
Opening times:
10:00 – 13:00
14:00 – 18:00
Saturday – 10 – 14
Location/ Venue / Address:
 Address:
40a, "Otets Paisiy" Str
For Information / Information about / More Information about:
 phone:: 038 624 777
 Website: http://www.galleryhaskovo.com/