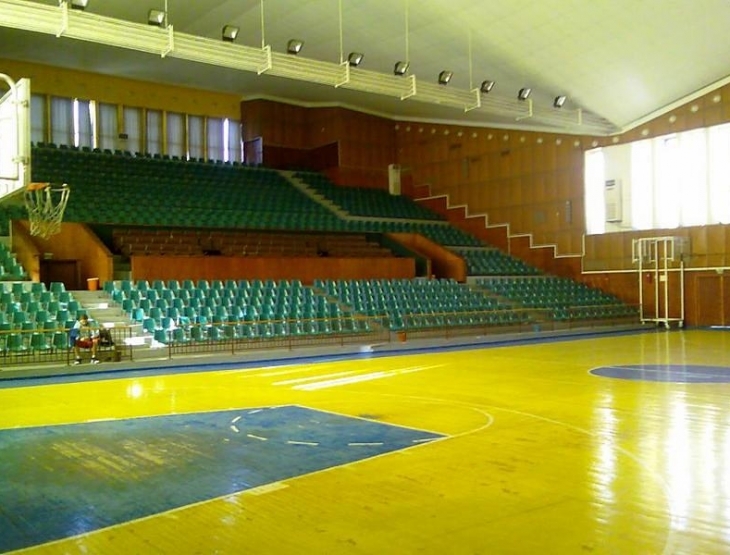 DRUZHBA SPORTS COMPLEX
It is located in the central part of the city and has halls for several types of sports, such as basketball, weightlifting, power lifting, and wrestling, karate and fitness center with aerobics hall.
BASKETBALL HALL
This is the hall with the most seats in the city. It is used both for sports events and for cultural and entertainment events. It has 1200 seats and a basketball court with the following dimensions: length 30 m, width 17 m and height 15 m. It can host national and international competitions in different sports. In 2009, the facility was entirely renovated and refurbished, it was also air-conditioned and now it meets the requirements of many international federations to conduct their championships. The hall is used for training for various national competitions.
WRESTLING HALL
One of the most modern wrestling halls in the country renewed and renovated in 2008. The total area of the hall is 500 square meters, length 30 m, width 12 m and height 6 m. The hall is equipped with two pieces of mat, a separate area for physical training, restrooms, changing rooms, bathrooms and room for the coach, as well as a sauna. It meets the requirements of the International Wrestling Federation. Besides for training, it is also used for the preparation of elite athletes – national teams.
WEIGHT LIFTING HALL
The weight lifting hall is located near the basketball hall. Its dimension is: 16m. long, 9.50m wide and 4m high. It has 8 platforms for weight lifting. The training process at club level, as well the training for all groups, at different ages happens here. The sauna, used by the athletes is located near the hall.
POWER LIFTING HALL
It is located on the ground floor / below the wrestling hall /; dimensions 17 meters long and 9 meters wide. Renovated in 2008, the hall has been equipped with 8 platforms for the power lifting. The local team exercises in the hall, and the national team holds training-camp here when preparing for championships.
GYM
It is located on the third floor of Druzhba complex. The total area is 150 sq.m., which includes an aerobics hall, a changing room, a bathroom, a solarium, a massage cabinet and a mini bar with about 15 seats. The hall is heated and cooled by an air conditioning. There is a separate area for physical training devices.
KARATE HALL
Located on the second floor. The hall has a total area of 100 sq.m. and has a bathroom and a changing room. Equipped with tatami.