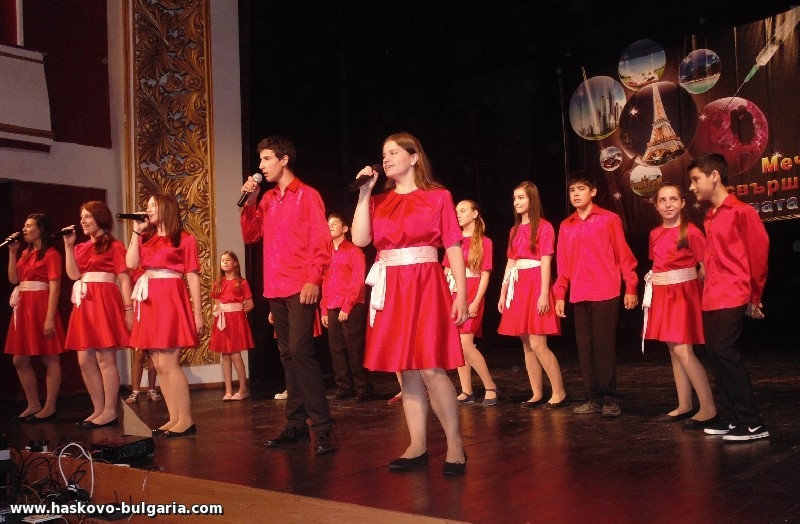 ORPHEUS CHILDREN'S CHOIR
For its 37-year of existence, the choir has performed more than 530 concerts in the country and abroad by touring Poland, Czech Republic, Ukraine, Hungary, Romania, Turkey, Wales, Germany, France, Netherlands, Russia, Greece, Italy, Austria, etc. The choir singers have won prizes from international competitions and festivals in Varna, Preveza, Moscow, Cantonigros, Cologne, Bydgoszcz, Plovdiv, Panagyurishte and Sofia.
For its 30th anniversary Orpheus Children's Choir was awarded the Golden Badge of the Bulgarian Choir Union, and for the 35th anniversary received Silver Lira from the Union of Bulgarian Musicians and Dance Artists.
The current conductor is Elena Tsvetkova – winner of the Gold Badge of BCU, a graduate of the Academy of Music and Dramatic Arts in Plovdiv, from the class of choral conducting of Professor Kr. Chetinyan. Representatives of the formation also took part in an international project Various Dialogues in 2006 in the town of Genestredo di Vogogna, Italy, where they filmed and sounded with their songs, the short film The Taste of Decameron. In 2009, Orpheus Choir participated in another Project City Sound in Berlin, Germany, and in 2010, the choir was the representative of Bulgaria at the European meeting of children's and youth choirs, organized by the European Choral Association Europa cantat in Bonn. In 2013, Orpheus was the first Bulgarian choir to be included in the World Choral Festival for Peace – Vienna, where the singers had a concert at the Golden Hall of the Vienna Philharmonic Orchestra, Musikverein, which hosts the annual New Year's Philharmonic Concert. 2014 gave the chance to the Haskovo singers to sing on another famous stage – Arena di Verona, during a participation in an international choral festival in Italy.
 Location/ Venue / Address:
 Address:
Bulgaria blvd. 41
For Information / Information about / More Information about:
 phone::  +359 38 622 686
 Website: http://www.yc-haskovo.org/%D1%85%D0%BE%D1%80-%D0%BE%D1%80%D1%84%D0%B5%D0%B9-2/