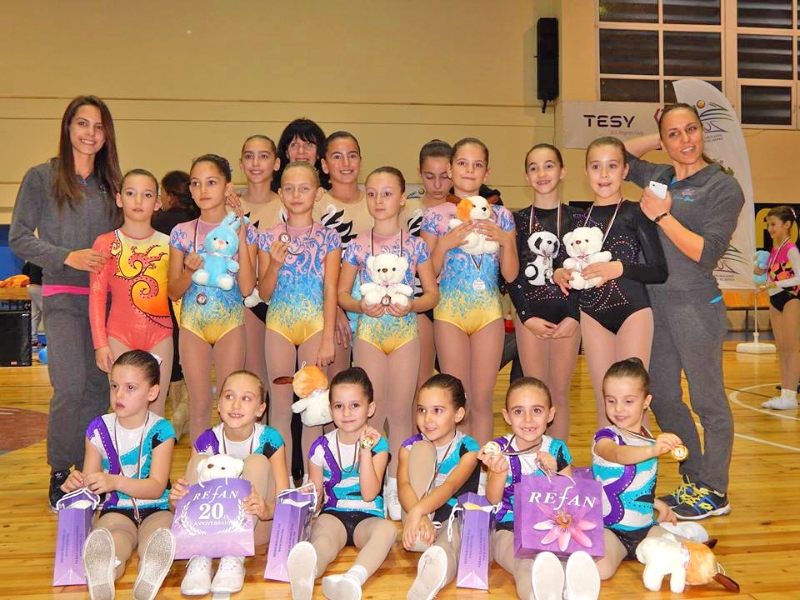 VIOLENA AEROBIC CLUB, HASKOVO
Violena Aerobic club – Haskovo was founded in 1993 and in 1996, it was officially registered. It is among the first aerobic clubs in Bulgaria and among the founders of this sport in Haskovo. Violena is also one of the founders of the Aerobic Union of Bulgaria.
The club develops dynamic sport-competitions activity, whereas the competitors from Violena have participated in all World and European championships (as main performers of the National Team) and in numerous international tournaments. They have won countless medals and cups from European and world championships. For six years, the club has been the leader in the country's aerobics-marathons. Along the club's competing activities, it also provides sport activities for children and adults.
More than 100 athletes have passed through sports club "Violena", two of them Desislava Ivanova and Elitsa Kostadinova are being educated at the department of aerobic gymnastics at the NSA. We must also mention the names of Monika Popova, Pavlina Yaneva, Mariya Slavova, Hristo Barzakov – pioneers in competitive aerobics, whose achievements have brought many awards to the club.
In 2011, the club's competitors participated in two national and four international competitions, from which 39 medals were won: 9 medals from the International Tournament in Slovakia; 11 medals from National Championship and Borovets Grand Prix; 6 medals from International Tournament Plovdiv; 8 medals from the Borovets National Tournament and 5 medals – Open International Tournament in Hungary.
At present, Violena club continues to train and prepare contestants for upcoming aerobics competitions and tournaments, and also to provide sports and extracurricular training for children.